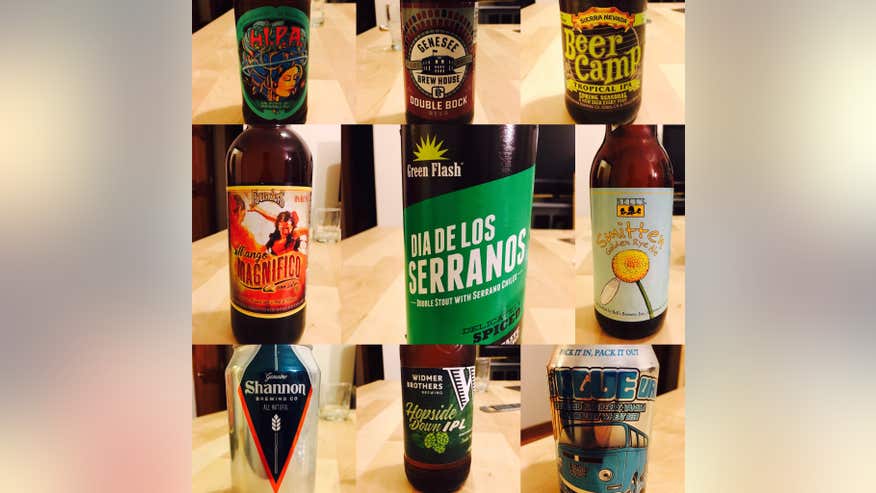 Were the FoxNews.com Brew Crew– a group of thirsty co-workers who bond over our love of craft beer.
Many of the spring beers sampled this year have a light, bready quality to them, but there were two spicy wild cards thrown in the mix to heat things up. Whether you gravitate towards a hop-forward IPA or something sweet and smooth, these beers are definitely perfect for welcoming the warmer weather. Cheers!
Check out more of the best seasonal craft beer reviews.
Green Flash Brewing Dia De Los Serranos:
Were kicking off this list with a transition beer that will easily take you from winter to spring, but watch out– is has surprisingly spicy kick. Dia De Los Serranos smells like coffee with hint of chillies. This Green Flash brew tastes like a spicy, sweet iced coffee. The different and complex flavors help to satisfy all of your cravings. You may even pick up hints of chocolate. Even though this is a rich, dark stout, the chili gives its fresh spring taste.
Bells Smitten Golden Rye Ale:
Spring is in the air immediately after opening up this brew with whiffs of fresh floral notes. The first sip of this Bells brew is very balanced, light, and refreshing. We jokingly thought it tasted like melting snow approaching the first spring bloom. Its slightly hopped with a subtle sweetness.
Founders Brewing Mango Magnifico:
The first thing you notice about this beer is its strong, peachy aroma. Its sweet smell really draws you in. However, that first sip of this Founders ale will bring a spicy surprise. It begins with a sweet, mango flavor that quickly disappears into a pleasantly spicy burn. It's almost overly sweet but the spicy pepper hits you fast making for an intense balance. The spice will linger in your throat long after youre done. There are a lot of flavors going on in this bottle– just like you would experience when enjoying a fresh peach mango salsa.
Magic Hat Hi.P.A:
Magic Hat's Hi.P.A is an attention-grabbing brew with the scent of juniper hitting your nose upon first sniff, which gives way to hints of orange zest. This beer is kind of sweet for an IPA with a cloudy appearance. However, it still has that crisp, bitter taste one looks for in a hoppy beer. You may even notice a slight lemon zest characteristic in the taste. After a couple of sips, the flavor of gin hits the back of your throat. It might be unusual but we definitely think this beer is worth a shot.
Read more: https://www.foxnews.com/leisure/2016/04/13/spring-2016-must-try-craft-beer/